Hyderabad to Hampi by train: Hospet is the nearest station. There are a couple of daily trains connect Hospet with Hyderabad with Hospet. Try Hyderabad-Kolhapur Express (Train No:11303 / 11304) which takes about 12 hours between Hospet and Hyderabad.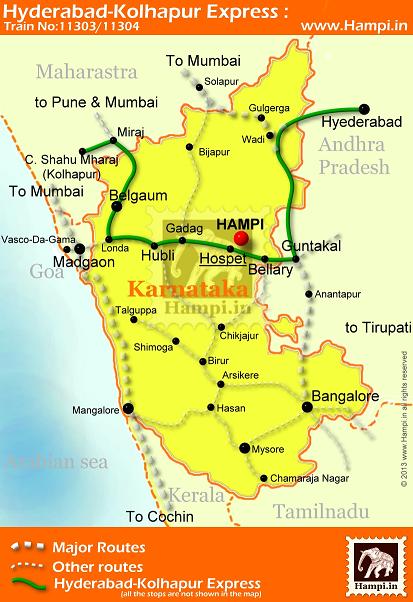 Hyderabad to Hampi by Road:
Hyderabad to Hampi distance is about 370km , takes about 7-8 hours of drive with halts.
Hyderabad– 85Km ->Jadchelra– 18km –> Mehbubnagar– 105km–>Raichur–90km–>Sindhanur– 50km–>Gangawati– 6km–>Kampli–20km–>Kamalapur –4km–>Hampi
Hyderabad to Hampi by bus: KSRTC operates many daily services (about 7 hours travel time) from Hyderabad to Shimoga, via Hospet. Types range from Airavat (luxury Volvo bus) to Sarige type (express). Bus drops you at Hospet bus station, from where you can board a local bus to Hampi or take an auto-rickshaw.