Also Known as Pattanada Yellamma, this temple is dedicated to the guardian deity of the Vijayanagara city.
The temple is still in active worship as it has been during the days of the Vijayanagara capital. The fearsome character of this goddess is obvious from the arms and the costumes carved on to the idol.
This four-armed deity in the sitting position holds arms like sword and a trident (a three pointed spear) in two hands; a tiny drum and a skull bowl in the other two hands; a garland made of skulls.
It's believed that the Vijayanagara kings belonged to the ancient Kuruba (means warrior) community. And this clan worshiped goddess Yellamma. Even in the present days, the priests at this temple are of this community.
Though a tiny shrine, this temple would have enjoyed patronage from the Vijayanagara kings. This is indicated by the proximity of such a humble shrine to the core of the otherwise opulent royal neighborhood.
Now sunken below the ground level, this temple is worth a visit. The narrow track that runs in the northeast direction from the Hazara Rama Temple can lead you the Yellamma Temple. At about 200 meters from the Hazara Rama Temple is the tree-laden courtyard of the temple. On the way you would cross the Pan Supari Bazar.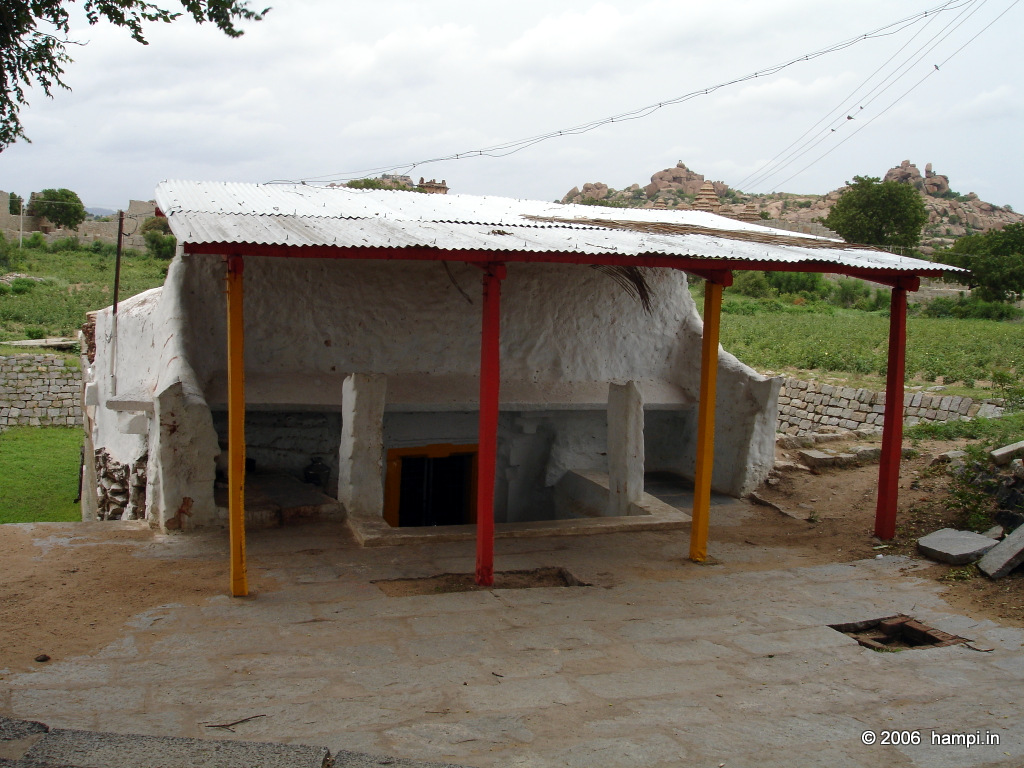 Yellamma Temple in the Royal Center area