This river facing shrine looks humble but religiously significant. According to the local myths, this is the place where Rama killed Vali and crowned Sugreeva. The name Kodandarama means crowned Rama, in local dialect
The sacred bathing spot in front is one of the holiest spots for the pilgrims to Hampi (see Chakratirtha). You can see long ancient pavilions next to this temple that have been used by the pilgrims as a rest place for many centuries.
Like mentioned earlier this is more known for it's religious importance than for the architectural peculiarity. Three very tall statues of Rama, Sita and Lakshmana are enclosed in the sanctum. The idols are sort of deep bas-relief carved on a huge boulder at the hillside. The sanctum and the pillared pavilion are added arround it at a later stage . During peak monsoon season the river-water rises and sometimes reaches up to the temple courtyard.
You can reach here only by a walk along the riverbank. In fact the riverside trek path that connects Hampi Bazaar to the Vittala Temple passes along the courtyard of this shrine. It possible to bring your bicycle (a little bit difficult though) along so that you can further continue ride when the track became &lsquobicycle-able' .
From Virupaksha Temple go towards the Nandi statue (Monolithic Bull), located at the other end of the Hampi Bazaar. Just before you reach the Nandi, you can spot a signpost and a path branching to left (towards the riverbank). Take this path and it will soon reach a point, further to which it is not possible to ride a bicycle. Just walk along this semi paved/ stepped rock. A few minutes later you would find this path enters into a cave like rock formation and emerges out soon. When you come out of it you are practically at the end of the temple 's sacred bathing area. It can take about 30 to 45 minutes by walk to reach Kodandarama Temple from the Virupaksha temple.
Alternatively, you can just climb across the hillock behind the Nandi statue. Now you are near the Achyuta Raya 's Temple. Head to the riverbank. Kodandarama Temple is right around the corner.
As this is an active religious place and observe the standard etiquette deemed for a place of worship.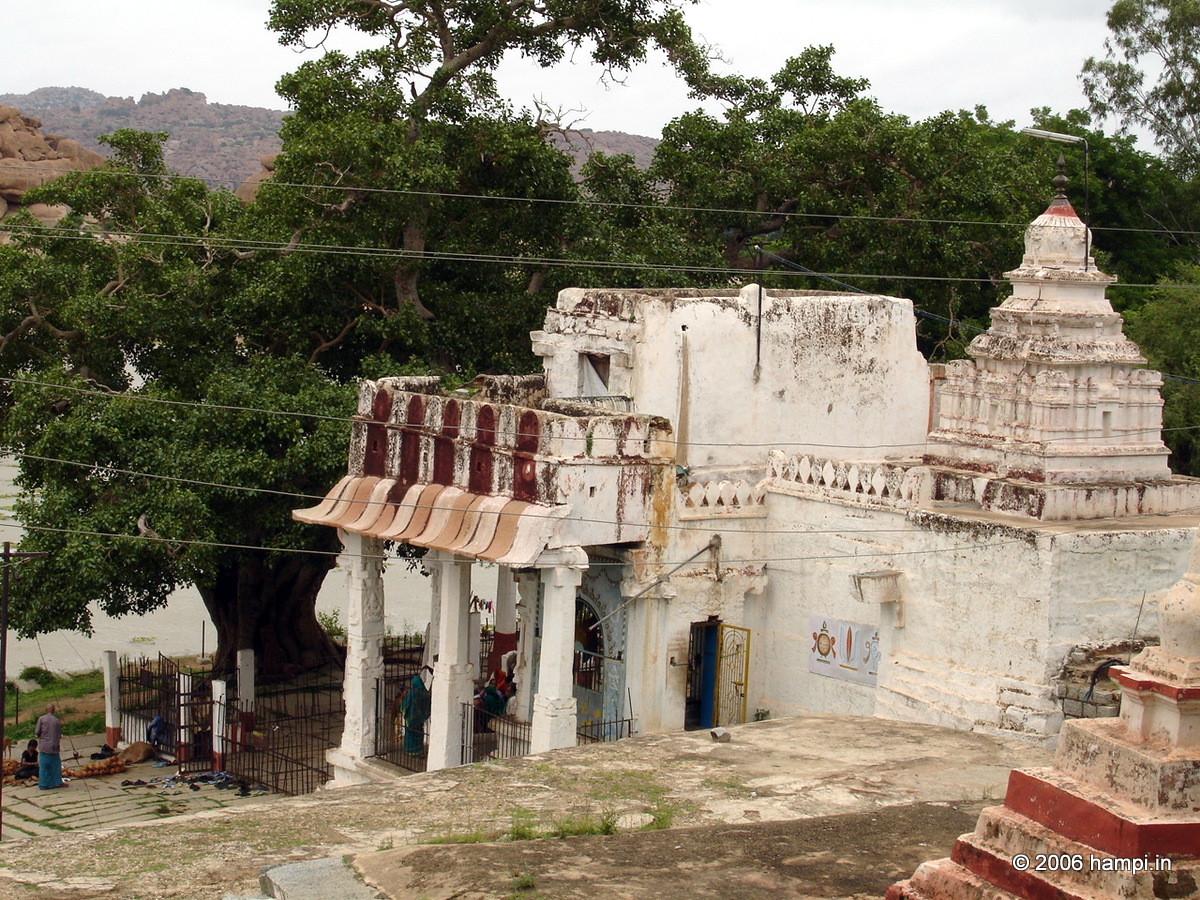 Kodandarama Temple , Overlooking the Chakratirtha