Virupapur Gadde is the area just across the river from near the Virupaksha Temple. The place is known for its laidback ambient, lodges and tourist huts.
Though during the peak seasons backpackers storm this area, Virupapur Gadde is very rural in heart. You need to take a coracle ferry to reach this side of the river, as there are no bridges available so far. The Bukka's Aqueduct ( an ancient bridge like structure built across the river) nearby is easily accessible from this area. Just walk from your guest house area towards the main road up in the north. You can see the aqueduct as you approach the main road. You need to reach this main road to go towards places like the Anjaneya Hill ( the hill top monkey god's temple), Pampa Sarovar and in general the Anegondi ( the pre-Vijayanagara capital ) area with many attractions.
Though the occasional rave parties were not viewed in a favorable light, this area is a popular a 'hippy hideout'. Also this is the place in Hampi where the post Goa hangover still lingers on, typically after the New Year season.
However one is encouraged to explore this area to checkout what it offers. Who knows what clicks, you may find that thatched huts offered on rent a fun to stay in or the unlit nights of this neighborhood complete with the high-pitched cry of the crickets fascinating. All around are vast stretches of paddy fields.
Bouldering fans take note: This IS the place where your fellow climbers stay, thanks to this area being close to the 'popular' boulder problems and also less touristy per se. .
There are even a few guesthouses offering specific services needed for the boulders. For example rental of crashing pads, supply of chalk powder, topos.. and more importantly a chance to meet up other boulderers to share a couple of betas over a cup of hot chai!
For more on bouldering specific details please see : Bouldering in Hampi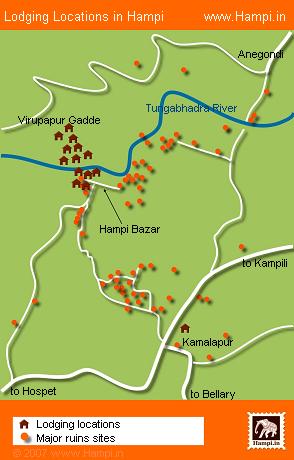 Location of Hampi lodges , hotels and guest houses.
Virupapur Gadde (also called Virupapur Gaddi or Hampi Gaddi) is the popular backpacker hideout. A large number of 'guest houses' are located close to the Virupaksha Temple. You need to cross the river for the Virupapur Gaddi area. The Guesthouses near the Virupaksha Temple are however within a walkable distance from the Hampi bus station.