Hospet is the gateway town to Hampi with bus and rail connections.
It's ideal to stay in one of those Hampi guesthouses or lodges located in and around the Hampi Village. However they are basic in facilities.
So if you are looking for some higher  comforts and facilities, look for a hotel option in Hospet.
There are a good number of then available in the town.  A few are listed here, you may explore further options... and of course if you are looking for a luxury stay , checkout Luxury Hotels in Hampi. Some of these are close to Hospet or Hampi, while the rest are a bit far from these two places. Nevertheless, it's possible to explore hampi from these upscale/resorts in the Hampi/Hospet region.
A brief list of hotels in Hospet is attached below. Of course there are many more in the town. Some are listed in the online bookling/review portals like booking.com , makemytrip, tripadvisor etc. There are also plenty of smaller hotels in the town where you can walking and check for availability....
| Hotel | Location | Type of Hotel |
| --- | --- | --- |
| Shanbhag Towers | Opposite to the Hospet bus station | Mid range budget hotel |
| Hotel Malligi | Located near Hospet bus station | Three star hotel |
| Hotel Priyadarshini | Located on the Hospet bus stand road | Budget hotel |
| Hotel Karthik | On the way to Hospet city from the railway station | Mid range budget hotel |
| Krishna Palace | Near Hospet Bus stand | Three Star hotel |
| Hotel Hampi International | | Mid size budget hotel |
In short, the ideal base for exploring Hampi is one of those basic/budget type accommodations available around the Hampi Village. Hotels in Hospet town are more practical from a travel/facilities standpoint. If you are looking for a splurge, there are quite a few luxury type accommodation in the region, though some of them are a bit far, but accessible from Hampi. Always see the reviews before you book....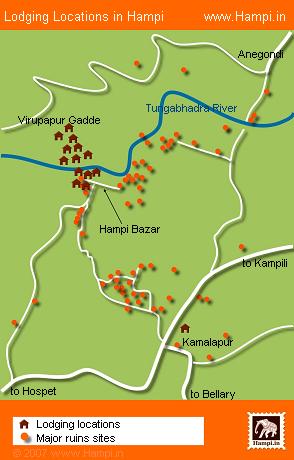 Location of Hampi lodges , hotels and guest houses.
Virupapur Gadde (also called Virupapur Gaddi or Hampi Gaddi) is the popular backpacker hideout. A large number of 'guest houses' are located close to the Virupaksha Temple. You need to cross the river for the Virupapur Gaddi area. The Guesthouses near the Virupaksha Temple are however within a walkable distance from the Hampi bus station.